Contact
Büro für Raumforschung, Raumplanung und Geoinformation (RRG)
RRG Spatial Planning and Geoinformation

Eichenweg 16
D-23758 Oldenburg in Holstein
Deutschland/Germany

T +49 (0) 4361 / 508 777
F +49 (0) 4361 / 508 779
E : cs(at)brrg.de W www.brrg.de
Comments on this site can be adressed to: webmaster(at)brrg.de
Travel arrangements:
By car
Oldenburg i.H. can best be reached by car using motorway A1 further north from the city of Lübeck. Use motorway exit Oldenburg-Süd to leave the motorway, turn right and continue the main road towards main station. In front of the stations follow the main road by a sharp left turn. Turn right at the third traffic light. After crossing the railway track turn right at first occasion, then again turn two times right into 'Eichenweg'. The office building will then be located straight at the end of the road (dead end).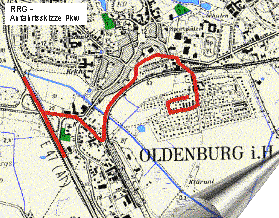 By train
Oldenburg i.H. has direct train stop and can be be reach by train via Intercity and EuroCity trains from Hamburg, Lübeck or Copenhagen which stop at Oldenburg. Beyond these high quality rail trains, a couple of regional trains are stopping at Oldenburg as well. Leaving the train station you could either take a short taxi ride (3-5 minutes driving time to the office), or you can have a short walk (about 5 – 10 minutes) crossing a park and residence area.





By plane
The next major airports to Oldenburg i.H. are Hamburg, Lübeck and Kiel. Whereas the latter two have direct point-to-point connections to select airports, the Hamburg airport offers flight connections to almost all domestic and international destinations in Europe. It is recommended to continue your journey from the airports best by train, from the Lübeck airport is also possible to take a taxi ride (about 45 minutes driving time).